Trump Is Now Trying To Cancel Racial Sensitivity Trainings For Federal Agencies, Calling Them "A Sickness"
The White House memo targeting these trainings comes after weeks of pro-Trump pundits attacking critical race theory.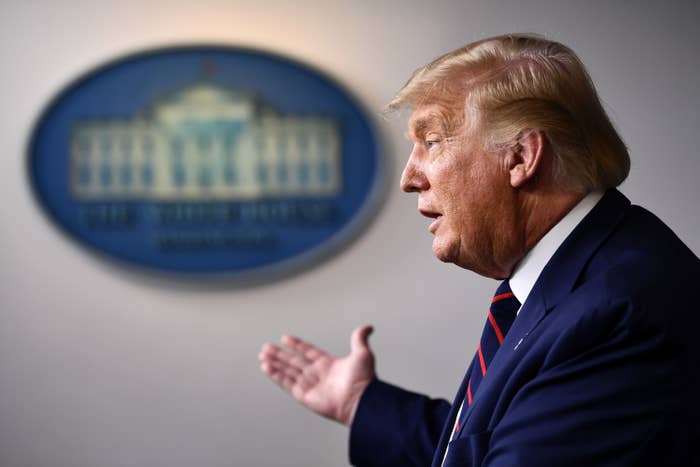 In a memorandum issued by the White House Friday, the Office of Management and Budget (OMB) said it's planning to withdraw funding from racial sensitivity trainings for federal agencies, calling them "un-American" and "divisive," as thousands continue to Sept. 4 White House memo said, and they "undercut our core values as Americans."
The memo specifically targets the terms "critical race theory" and "white privilege," telling all agencies to review contracts containing those terms and "identify all available avenues within the law" to cancel them.
Russell Vought, the director of the OMB, said on Twitter that racial sensitivity trainings are "taxpayer funded indoctrination" that "sow division and racism."
"The President has directed me to ensure that Federal agencies cease and desist from using taxpayer dollars to fund these divisive, un-American propaganda training sessions," Vought wrote in the memo.
The White House directive comes after weeks of pro-Trump pundits attacking critical race theory. On Tuesday, Fox News host Tucker Carlson dedicated a segment to the idea, painting it as an extreme ideology rather than a social science theory that attempts to explain and contextualize the impact of racism on institutions.
Carlson's guest, Christopher Rufo, called on Trump directly to abolish "critical race theory trainings from the White House."

Trump repeatedly tweeted in support of the memo on Saturday morning.
"Please report any sightings so we can quickly extinguish!" he said in one tweet, calling critical race theory a "sickness that cannot be allowed to continue."
The memo caps a week of controversial budget announcements. Earlier on Friday, the Pentagon said it would cut the budget for military newspaper Stars and Stripes but reversed the decision after widespread outcry.
The White House also issued another memo on Wednesday that said it would be reviewing federal and state funding to cities "that are permitting anarchy, violence, and destruction."
It's not clear what cancellation of race sensitivity trainings will look like in practice. Besides directing federal agencies to review the contracts, Vought said the OMB "will shortly issue more detailed guidance on implementing the President's directive."
Jane Lytvynenko is a reporter for BuzzFeed News and is based in Toronto, Canada. PGP fingerprint: A088 89E6 2500 AD3C 8081 BAFB 23BA 21F3 81E0 101C.

Contact Jane Lytvynenko at jane.lytvynenko@buzzfeed.com.

Got a confidential tip? Submit it here.